POSTSCRIPT
All over the world and throughout history, most children have dutifully followed in their forebears' footsteps when it came to choosing a career. In my own case, I've stubbornly followed my own inner drummer to forge a career path that is singularly mine. That path has gone in several directions over the years but has ultimately come full circle.
I was a professional writer and editor in New York City for many years. More recently, I taught English and Creative Nonfiction Writing at UNM in Taos, as well as Creative Nonfiction Workshops through SOMOS (The Society of the Muse of the Southwest) in Taos.
I was also a caterer, chef, and food writer in New York for ten years; and I taught in the Culinary Arts department at UNM-Taos for several years. In addition, I wrote a monthly food column for
The Taos News
for two years.
I taught patchwork quilting as an independent economic development project in Segou, Mali, West Africa, for nearly three years, then tried my hand at making art quilts for a living when I first settled in northern New Mexico in 2001.
All of these experiences have been worth sharing, I believe, which is why I've been a writer and teacher. As an educator, it's been my purpose, as an elder, to share what I've learned along the way.
Then, in late 2015, I decided to retire to the beautiful colonial city of San Miguel de Allende in Mexico's central mountains. From this lovely perch I've been writing a weekly blog called The WOW Factor, about the expat life here. And, like many grateful expats, I've happily volunteered my time teaching English -- using my handmade puppets -- to young Mexican children. Once a Peace Corps volunteer, always some sort of volunteer, I've found!
The photograph of Hemingway's stairs that you see on each page of this website (
see credits page
) is a visual depiction of my personal philosophy: Life is a climb. Take it one step at a time. Yes, you can do it! The view only gets bigger and better the higher you go.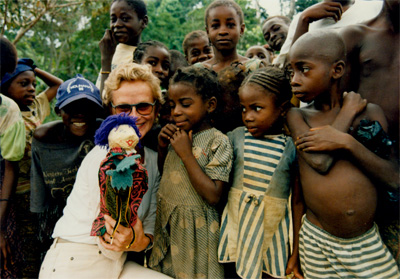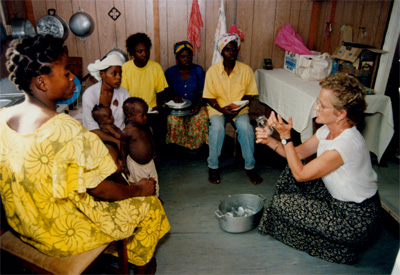 (Above, left:) Puppet Chantal Chanson taught the children of Mana-Mana, Gabon, the importance of hand-washing for health.
(Above right:) Teaching tropical jam preparation in a friend's kitchen in Lastoursville, Gabon. (Photos by Martha Cooper, 1997)
Also of note:
On April 1, 2022, I gave a reading from my
How to Cook a
Crocodile
memoir at the Salon Camino Sylvestre in San Miguel de Allende, Mexico, with two other San Miguel authors. Here is the full YouTube video of that event:
https://www.youtube.com/watch?v=Cr6qDUeISw4
See this August 2021 interview on author Lily Iona MacKenzie's blog, focusing on writing:
https://lilyionamackenzie.com/meet-bonnie-lee-black-who-created-the-award-winning-blog-the-wow-factor/
In August 2013, I participated in the Pecha Kucha food-themed event in Taos. You can see a video of my six-minute presentation on YouTube here:
http://youtu.be/YrwQUssWGfM
.
Also please see the post on the late Liz Cunningham's blog "Mabel Dodge Luhan and the Remarkable Women of Taos":
http://mabeldodgeluhan.blogspot.com/2012/12/mabel-contemporary-taos-women-writers.html
And a post by Sallie Bingham, on her blog, www.salliebingham.com: /http://salliebingham.com/sweet-tarts-sweethearts/


More to come! I'm still climbing...