POSTSCRIPT
All over the world and throughout history, children have often dutifully followed in their forebears' footsteps when it came to choosing a career. In my own case, I've stubbornly followed my own inner drummer to forge a career path that is singularly mine. That path has gone in several directions over the years but is now, I'm happy to report, coming full circle.
So the flat tag line that follows my name on this website, describing the professional me -- Writer, Editor, Educator, Artisan – should really be set in the round. I was a professional writer and editor in New York for many years. More recently, I taught English and Creative Nonfiction Writing at UNM in Taos, as well as Creative Nonfiction Workshops through SOMOS (The Society of the Muse of the Southwest) in Taos.
I was also a caterer, chef, and food writer in New York for ten years; and I taught in the Culinary Arts department at UNM-Taos for several years. I also wrote a monthly food column for
The Taos News
for two years. I taught patchwork quilting as an independent economic development project in Segou, Mali, West Africa, for nearly three years, then tried my hand at making art quilts for a living when I first settled in northern New Mexico in 2001.
All of these experiences are worth sharing, I believe, which is why I write and teach. As an educator, I feel it is my purpose, now that I am an elder, to share what I've learned along the way. The photograph of Hemingway's stairs that you see on each page of this website (
see credits page
) is a visual depiction of my teaching philosophy: Life is a climb. Take it one step at a time. Yes, you can do it! The view only gets bigger and better the higher you go.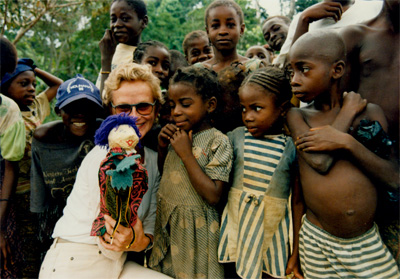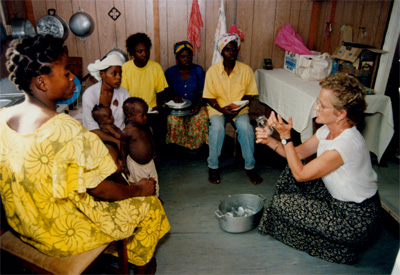 (Above, left:) Puppet Chantal Chanson taught the children of Mana-Mana, Gabon, the
importance of hand-washing for health.
(Above right:) Teaching tropical jam preparation in a friend's kitchen in Lastoursville, Gabon.
(Photos by Martha Cooper, 1997)
In August 2013, I participated in the Pecha Kucha food-themed event here in Taos. You can see a video of my six-minute presentation on YouTube here:
http://youtu.be/YrwQUssWGfM
.
Bonnie Lee Black: How to Cook A Crocodile from Izilwane on Vimeo.


POSTSCRIPT P.S.'s: In 2012 I was honored to be chosen one of the "Remarkable Women of Taos." Please follow the link here: http://taos.org/women/community-profiles?/item/182/Bonnie-Lee-Black-Writer-Editor-Educator-Artisan for more.

Also check out the post on Liz Cunningham's blog "Mabel Dodge Luhan and the Remarkable Women of Taos": http://mabeldodgeluhan.blogspot.com/2012/12/mabel-contemporary-taos-women-writers.html

Please see a lovely new post by one of my star CNF students, Sallie Bingham, on her blog, www.salliebingham.com: /http://salliebingham.com/sweet-tarts-sweethearts/

Also see: August 2014 interview in Drafthorse literary journal, with video clips of the interview included: http://www.lmunet.edu/drafthorse/interview/black.shtml.