OTHER PUBLISHED WORKS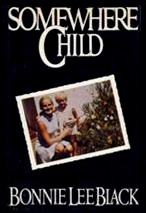 Somewhere Child
is Bonnie Lee Black's astonishing and beautifully told memoir of how she lived through the ordeal of parental kidnapping not once, but twice -- first in her suburban New Jersey community and then, several years later, in Salisbury, Rhodesia, where she had tracked her ex-husband down, and where, after a long and sensational legal battle, she once more won custody of her daughter, only to lose her yet again.... Black has assembled fragments of letters, journals, and court transcripts to create a spellbinding interior narrative recapturing those years. A compelling brief against child snatching, that perverse and tortuous form of domestic violence,
Somewhere Child
is filled with love and fury and heart-wrenching pain, and is ultimately a testimony to the resilience and fierceness of the human spirit.
-- Viking Press, New York,1981
"This book reconfirms for me the importance of the work we are doing to bring the problem of parental alienation to public awareness in the hopes of sparing future generations the pain and suffering that this author and her daughter had to endure."
Find available copies of
Somewhere Child on Amazon
.
In addition to her books, Bonnie's essays have appeared in a number of published anthologies and literary journals, including
Alimentum
,
Persimmon Tree
, and
Under the Sun.
Her review of Alexandra Fuller's book,
Cocktail Hour Under the Tree
of Forgetfulness,
can be found at:
http://www.izilwane.org/cocktail-hour-under-the-tree-of-forgetfulness.html.

Bonnie was also the editor of and a contributor to the one-of-a-kind fundraising cookbook, STORIED RECIPES. For more on this, go to: http://www.taosnews.com/lifestyle/article_cbff1fde-0f25-11e2-8dbf-0019bb2963f4.html.