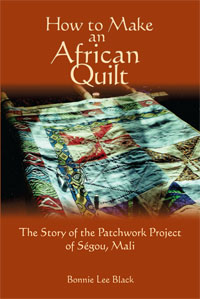 New Mexico-Arizona Books Awards Finalist:

HOW TO MAKE AN AFRICAN QUILT:
The Story of the Patchwork Project
of Ségou, Mali
(Nighthawk Press, 2013)

"This is an immensely evocative, superbly written, and profoundly moving narrative of Bonnie Lee Black's work with a group of remarkable Malian women. Her radiant humanity shines through on every page."

-- David Livingstone Smith, author
of Less Than Human (St. Martins)

How do we sew together the hoped-for future and the unfortunate past, the bright as well as the darker patches of our lives? How do we stitch cultural differences, join disparate worlds, to create something both beautiful and useful? Bonnie Lee Black subtly addresses these universal questions through vivid stories of her life-changing experience living and working in the fabled city of Ségou, Mali, in West Africa, after having served for two years in the Peace Corps in Gabon.

At the request of a talented group of Malian seamstresses, Black taught them the craft of American patchwork quilting and spearheaded an independent economic-development effort called the Patchwork Project. She has now created a many-layered patchwork quilt of a book that brings that time and place -- and all its colorful characters -- to life on the page.

Threaded throughout is the fictional narrative of Jeneba, a slave-quilter in the antebellum American South who had been kidnapped from the Kingdom of Ségou as a child, as well as the real voices of the Malian women who took part in the Patchwork Project.

Purchase this book from Amazon at http://www.amazon.com or direct from the publisher at http://www.nighthawkpress.com.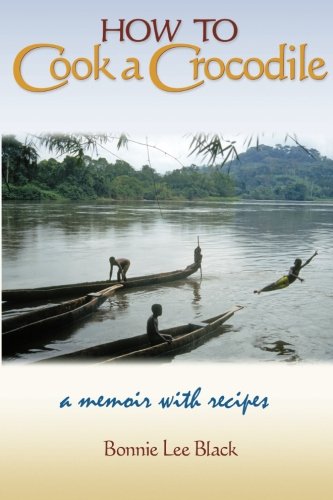 HOW TO COOK A CROCODILE:
A Memoir with Recipes
(Peace Corps Writers, 2010)

Casting caution to the wind at the age of fifty, New York caterer and food writer Bonnie Lee Black decided to close her catering business and join the Peace Corps. Posted to the tiny town of Lastoursville in the thickly rainforested interior of Gabon, Central Africa, Bonnie taught health, nutrition, and cooking, in French, primarily to local African women and children.

In the two years she served in Gabon, Bonnie developed her own healthy recipe for a purposeful life, made in equal measures of good food, safe shelter, meaningful work, and unexpected love. Like M.F.K. Fisher's classic World War II-era book, How to Cook a Wolf, Bonnie's true stories comprise a lively, literary, present-day survival guide
.
How to Cook a Crocodile won first prize in the Charity and Community - North America category at the Gourmand International awards ceremony held at the Folies Bergeres in Paris on March 6, 2012.
To watch a six-minute Pecha Kucha presentation of
How to Cook a Crocodile
, go to:
http://pdl.vimeocdn.com/31134/072/191527976.mp4?token=1379812396_c351cf633a9e05bfaf9963025f5c666a.
Purchase this book on Amazon.